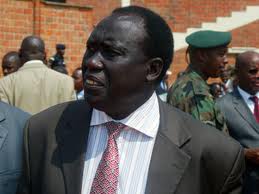 Rwandan Justice Minister, Tharcisse Karugarama, has been dropped from the government a few days after the Rwandan government leader General Paul Kagame criticized him for being opposed to a third presidential term.  In an interview published on May 19, 2012  by The Guardian,  one of the prominent British news media, General Paul Kagame belittled the Rwandan Justice Minister for  having expressed the view that  General Kagame should  step down in 2017 in order to maintain the primacy of the rule of law.
Photo: Tharcisse Karugarama
"Why don't you tell him [Karugarama] to step down himself? All those years he's been there, he's not the only one who can be the justice minister (see here)",  General Kagame told the Guardian journalists. Now, he has fired the Justice Minister.
While criticizing the Justice Minister, General Paul Kagame made it clear he does not intend to bend under pressure and release power.  "I'm sure if the RPF went on for 40 years it would be a crime, but for the Liberal party in Japan it's not a crime. This is what disturbs me. Sometimes you feel like doing things just to challenge that – that somebody is entitled to do something, but says when you do it you are wrong. I find it bizarre,.. "If it happens elsewhere and people think it's OK, why do people say it's not OK when it happens in Rwanda? I just don't accept this sort of thing. We have many struggles to keep fighting. Some of the things are like racism: 'These are Africans, we must herd them like cows.' No! Just refuse it."
Minister, or rather now former minister,  Tharcisse Karugarama was one of the few Tutsi within the Rwandan Patriotic Front (RPF)  who had shown unwavering loyalty to General Paul Kagame. He has served as the Rwandan Minister of Justice  and Attorney General since 2006. Hence, he is instrumental in formulating and implementing the controversial laws  intended on repressing people opposed against or critical of  General Paul Kagame or the Rwandan Patriotic Front government:  the law on division ideology,  the laws governing  Gacaca courts set up to try Hutu ethnics, the laws allowing torture, and the laws punishing journalists publishing articles critical of the government and General Paul Kagame.
Himself raised in Uganda, he had managed to create his own network within the Justice system of the Rwandan government:  his close relatives Judith Mbabazi  a Superior Judge at the Court of First Instance of Kigali and Johnston Busingye a general prosecutor at the High Court of Kigali were among the most trusted allies of General Paul Kagame.
Minister Tharcisse Karugarama is very influential among the Ugandan Tutsi elite ruling Rwanda. Perhaps that is why General Paul Kagame,  fearing the growing divide within the elite, has replaced Karugarama with his relative  Johnston Busingye.
Despite the efforts to please him, Mr. Karugarama may be joining a growing number of disgruntled  Tutsi elite from Uganda who have been very critical of General Paul Kagame's rule. These include General Kayumba Nyamwasa, Colonel Patric Karegeya, and the brothers Gerald Gahima and  Major Theogene Rudasingwa (see here)
What will be  Tharcisse Karugarama's next move? People in Rwanda  wonder. Meanwhile, General Paul Kagame may already have found his own move. As he stated: "In the end we should come to a view that serves us all. But in the first place I wonder why it [NDLR:my replacement as the President of Rwanda and the Rwandan Patriotic Front] becomes the subject of heated debate."
He has also sacked the once rumored to be the heir apparent, the Cabinet Affairs Minister  Protais Musoni. Although some sources within the Rwandan government have confided to AfroAmerica Network that Musoni's sacking is aimed at appeasing Mr. Karugarama's faction, while preparing Protais Musoni or another, like the current African Development Bank  Donald Kaberuka,  or as a long shot, the former Supreme Court Chief Justice and current Ombudsman Aloysie Cyanzayire  the only Hutu female not born in Uganda and whose career has been on roll since she joined the Rwandan Patriotic Front (RPF),  for the biggest thing.
"But well, that would just be dreaming. General Paul Kagame is not going anywhere. He does not have such courage to release power voluntarily," a high ranking Rwandan official within the Tutsi elite recently confided to AfroAmerica Network.
Unsurprisingly, Protais Musoni was also replaced by another member of the Tutsi Elite from Uganda, Ms. Stella Ford Mugabo.
©2013 AfroAmerica Network. All Rights Reserved.