The first French trial against African kleptocrats opened on January 2, 2017. It targeted Teodorin Nguema Obiang Mangue, the Vice-President and son of the long term tyrant of Equatorial Guinea, Teodoro Obiang Nguema Mbasogo. Todorin Nguema Obiang Mangue was convicted of embezzlement and given a three-year suspended sentence in absentia and a €30milliion fine. His luxury private mansion and assets located in Paris were seized. Equatorial Guinea appealed the decision to seize the mansion, but the court's decision was upheld last year. Now, the dictator, under the cover of the state of Equatorial Guinea, has filed a case with the International Court of Justice against France over the confiscation of the luxury mansion and other assets.
In 2017 three African heads of state and their relatives, includiing sons and daughters, were targeted by the French and European courts for corruption, embezzlement, and plundering riches from their country to acquire massive assets and hide them in foreign accounts and properties. These included the Congolese dictator Sassou-Nguesso and his relatives and the ruling families of Angola, Gabon, and Burkina-Faso (see African Kleptocrat Dictators: Like the US, the European Union Steps Up Investigation Efforts).
---
Advertisement
Get the following books on Amazon: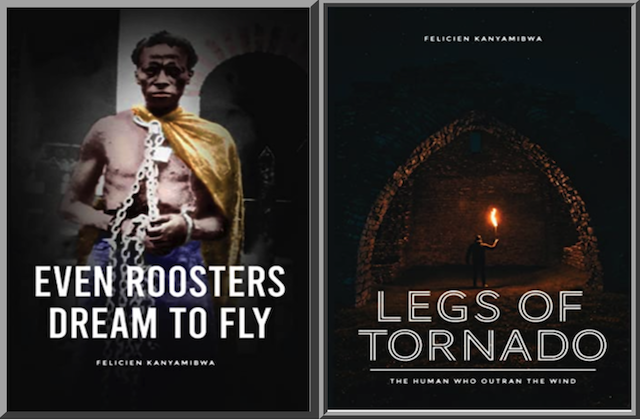 Even Roosters Dream to Fly: The Epic of a German White Catholic Priest and Manzi, a Freedom Fighter and a Mythological King of Rwanda
Legs of Tornado: The Human Who Outran the Wind, an African tale about a human from a humble upbringing who outran the wind, defeated evil spirits, overcame his fate, became a respected clan chief, and triumphed ever after
Even Roosters Dream to Fly along with Legs of Tornado are also available on Amazon worldwide and soon to several other platforms:
For more on the book, the author, the inspiration of the stories, Visit the author website here
---
Teodorin Nguema Obiang Mangue was accused of abuse of social goods, embezzlement of public funds, abuse of trust, and corruption. Among the properties located in France and covered by the trial were the private mansion of 4,000 square meters in the 16th Arrondissement of Paris with faucets covered with gold leaf, a collection of some 17 luxury cars, and a bank account with a balance of more than $110 million.
Since then, Teodorin Nguema Obiang Mangue has denied any wrongdoing despite the fact that in 2014, the U.S. Department of Justice recovered from him $30 million out of $70 million stolen from Equatorial Guinea's people. He had used $100 million to buy expensive properties in the US, including a hilltop mansion in Malibu, CA, expensive sports cars and the well famed diamond encrusted Michael Jackson's "Bad" tour White Glove.
Teodorin Nguema Obiang Mangue, 54, is the vice-president of his father, the dictator Teodoro Obiang Nguema, the Africa's longest-serving leader.
Teodorin Nguema Obiang Mangue is well known around the world for his extravagant living and spending habits. In fact, assets have been confiscated from him or identified in several countries, including the US, France, Brazil, Switzerland, and the UK.
In the case at the International Court of Justice, the leaders of Equatorial Guinea accuse France for violatiing obligations under the United Nations convention against corruption.
Meanwhile, the dictator Teodoro Obiang Nguema, 80, has decided to run for office again in November 2022 elections to extend his 43-year reign of Equatorial Guinea, one of the oil-rich states in Africa, that started in 1979, when he overthrew his uncle Francisco Macías Nguema in a bloody coup. His reign has been marked by repression, corruption, embezzlement, systematic human rights abuses, torture of political opponents, and consistent sham elections. Unlike his son, he is known for living an ascetic reclusive life. He appointed his son as his vice-president and deputy in 2012.
©2022 AfroAmerica Network