In 2022, like in 2020, Georgia is expected to play a major role in US politics. In 2020, Georgia played a major role in electing Joe Biden as the US President, and for Democrats control of the US Senate by electing 2 democratic candidates who won in the two runoff elections. AfroAmerica Network Black Woman of 2018, Stacey Yvonne Abrams, through Fair Fight Action, played a major role. Now, it is her turn to add to the history. Stacey Abrams, a voting rights activist, has announced her candidacy for the Governor of Georgia. Meanwhile, a new upcoming Black leader won a key election: Andre Dickens has been elected the new mayor of Atlanta Georgia.
In the Georgia US Senate runoff elections held on January 5, 2021, Democrat Rev. Raphael Warnock beat Republican Senator Kelly Loeffler and Republican Senator David Perdue was ousted by Democrat Jon Ossoff. In the end, Georgia general and US Senate runoff elections were historic and fundamental in defining the future of the US politics, for the following four years. After the elections, the major question was : Is Georgia finally turning Blue? That is the question.
What was sure was that Georgia was no longer red. The efforts by Georgia leaders, especially Stacey Yvonne Abrams, through Fair Fight Action, had changed the landscape, helping Joe Biden and Kamala Harris to win the state, and Reverend Raphael Warnock and Jon Ossof, democrats, to win U.S. Senate elections.
Stacey Abrams: First Black Georgia Governor?
Stacey Yvonne Abrams, AfroAmerica Network Black Woman of 2018 founded Fair Fight Action to address voter suppression. Her efforts, working with Atlanta mayor Keisha Lance Bottoms, led to high turnouts among the people who could not vote due to all kinds of limitations, such as access, transportation, misinformaton. Since then, Stacey Abrams has been focusiing on her voting rights. Her annoucement of the candidacy for Georgia Governor came as no surprise.
She will run again against her long time rival, the current Governor, Brian Kemp. In 2018, Stacey Abrams, a Democrat, lost to Brian Kemp, a Republican, in a controversial election, narrowly losing by close to 55,000 votes.
Stacey Abrams was also considered as a leading candidate for President Joe Biden running mate (see Joe Biden's Top Black Women VP Pick Contender ).
If she wins, Stacey Abrams will score a first in Georgia and the US: she will be the first first Black woman to serve as State governor in US and the first Black governor of Georgia.
Raphael Warnock: Pastor, Activist, First Black to Be Elected in Georgia, as Senator
In 2020, Senator Raphael Warnock won a special election, becoming the first Black senator to be elected in Georgia. In 2022, he is expected to run for a full term.
Raphael Warnock, a former pastor of Rev. Martin Luther King Jr. 's former church, is a Black man who grew up in public housing along with 12 siblings. With his win, he will be the first Black senator elected from Georgia. Like his brother Jon Ossof, Raphael Warnock is for Criminal justice and Police Reform, Addressing Environment and climate change, Government reform and Healthcare and Affordable Care Act (also known as Obamacare), support of Small Business and Tax Credits,
Immigration and Abortion and Gay Rights.
Andre Dickins: Deacon, Engineer, City Council, and Atlanta Mayor With Unique Opponents
Andre Dickens, a Black Man, is the new mayor of Atlanta Georgia, the 61st. After his win against the City Council President Felicia Moore, Dickens focused his victory speech on social justice and fighting against inequality in economic opportunities by promoting equity between richer, whiter residents and poorer, Blacker Atlanta residents. He repeated he wanted to restore the city as a beacon of opportunity for all residents.
He highlighted, once again, that his opponents were never the dozen other candidates he beat to become the new Atlanta mayor.
"The city is facing multigenerational poverty. We're facing the highest income inequality in the nation. And yes, we are fighting a crime spike right now in this city. My opponent is homelessness, hopelessness, joblessness, racism, poverty, violence." He said.
in 2013, Andre Dickens, then an administrator at the Georgia Institute of Technology, was elected to serve on Atlanta City Council. He has a engineering degree from Georgia Tech and a master's degree in public administration from Georgia State University. Andre Dickens, who was raised by a single mom, is a Baptist deacon.
---
Advertisement
Get the following books on Amazon: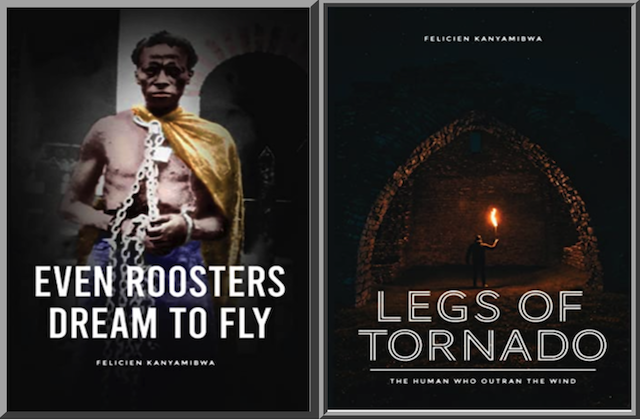 Even Roosters Dream to Fly: The Epic of a German White Catholic Priest and Manzi, a Freedom Fighter and a Mythological King of Rwanda
Legs of Tornado: The Human Who Outran the Wind, an African tale about a human from a humble upbringing who outran the wind, defeated evil spirits, overcame his fate, became a respected clan chief, and triumphed ever after
Even Roosters Dream to Fly along with Legs of Tornado are also available on Amazon worldwide and soon to several other platforms:
For more on the book, the author, the inspiration of the stories, Visit the author website here
---
Is Georgia finally turning Blue, with prominent Black Leaders? That is the question.
Black leaders have won several mayor and City Council elections. Among them are:
LaRhonda Patrick, a Black Woman, beats Mayor Randy Toms, a Black Man, to become the new Mayor-Elect of Warner Robins.
For the race for Georgia House District 165, Former Savannah Mayor Edna Jackson, a Black Woman, will succeed longtime Rep. Mickey Stephens, who died in August 2021. The elections for a full term will be held again next year.
Mario Avery, a Black man and former mayor of Fairburn defeated his successor Elizabeth Carr-Hurst to regain the post of Mayor.
In South Fulton, Khalid Kamau, a Black man and former councilman and a prominent Democratic activist defeated incumbent Mayor William "Bill" Edwards.
Forest Park: Incumbent Angelyne Butler beat Thomas Smith
@AfroAmerica Network 2021