Hip-hop entrepreneur Sean 'P. Diddy' Combs on Thursday November 6, 2003,  gave the city of New York $1 million he raised for public schools by running the New York City Marathon on November 2, 2003.The money will be used to support school libraries and technology.
Combs, who ran the race in 4:14:54, raised $2 million overall. He was expected to raise $1 million. The other $1 million will go to other charitable causes, including the Children's Hope Foundation, which helps families touched by AIDS, and Combs' own Daddy's House Social Programs.
<![if !vml]>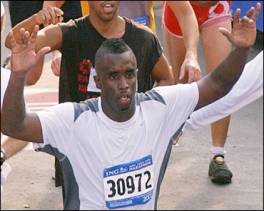 <![endif]>At a City Hall news conference to announce the donation, Combs and members of his entourage, met with Mayor Michael Bloomberg. P. Diddy trained for two months to reach the goal.
"It's an honor and blessing," said Combs, whose own children attend private schools, "to do something good for the city." Contributors to the fund include  the mayor of New York, Michael Bloomberg (10.000 dollars), the rapper Jay-Z (25.000 dollars) and his Diddy's former girlfried  Jennifer Lopez and hew new fiancée  Ben Affleck (78.000 dollars).  
<![if !vml]>
<![endif]>
Sean Combs was born on November 4, 1969, in Harlem to Melvin and Janice Combs. The murder of his father when he was just two years old forced his mom Janice to move Sean to Mount Vernon, New York.
Sean attended Howard University in Washington, D.C, but his life took a dramatic turn when he took an internship at Uptown Entertainment, where he met the man who would become his mentor, industry leader Andre Harrell (former President of Bad Boy Entertainment). Shuttling back and forth from Washington D.C. to New York City, Combs' energy and commitment earned him the leap from intern at Uptown to Director of A&R at the age of 19.
Sean is equally sought after for his advice and career guidance as he is for his talent in the studio. Combs' has nurtured and helped develop some of the music industry's most respected executives and management talents, including: former Bad Boy president Kirk Burrows currently manages Grammy Award winning artist Mary J. Blige; Leota Blacknor, who began her career as an executive assistant at Bad Boy and is now president at Ruff Ryders; former executive vice president Jeff Burroughs, currently general manager of Tracey Edmunds' Edmunds Record Group; former Bad Boy product manager Jayson Jackson who now manages Grammy Award winning artist Lauryn Hill; former product manager at Bad Boy Free is general manager of Def Jam's subsidiary So So Def Records; and Sean's former mentor Andre Harrell who served as President of Bad Boy and went on to serve as president at Kenneth "Babyface" Edmunds' New America Records. Looking to provide the same opportunities and guidance he received early in his career as an intern at Uptown, Sean's Bad Boy businesses have employed and provided a platform for success for hundreds of inner-city youths.
Not only have Sean's talents in the music industry become universally acknowledged, but the Bad Boy brand has come to encompass much more than just music. What started as a venture out of his own home had expanded not only into a multifaceted company, but a multi-million dollar business. Bad Boy ventures now include: Notorious Entertainment; the Sean John clothing line, which was nominated by the Council of Fashion Designers of America for the prestigious Perry Ellis Menswear Award in both 2000 and 2001; Justin Combs Music Publishing; Bad Boy Marketing; Bad Boy Productions; Daddy's House Studios; Daddy's House Social Programs; Bad Boy Technologies (P-Diddy.com and BadBoyOnline.com); Bad Boy Films and Bad Boy Books. His Sean John clothing line will soon introduce an underwear and women's line.
Most recently, Sean has taken on the film industry, making his acting debut in the Artisan comedy "Made," directed by Jon Favreau ("Swingers"). He will also take a role in the upcoming Lion's Gate feature "Monster's Ball."
Sean and Bad Boy's rising success has helped him follow through on his private vow to give back to the community that had supported him in his youth and career. Knowing the positive impact the consistent and careful guidance of his family, teachers and mentors had on his own life, Sean established Daddy's House Social Programs, Inc. in 1995 to create educational programs and initiatives in inner-city youth. Far exceeding a simple charitable gesture, Sean helps to create and fund innovative youth programs, including Wall Street training teams, college visit tours for high school seniors, international travel groups, summer camp programs and internships at Bad Boy which Combs himself instructs. Sean returned to Howard University to donate $1 million to help continue the institution's commitment to educating African-American youth. Furthering the cause, Combs' helped to bridge the digital divide in urban schools by donating more than 100 computers to 500 New York City public schools. On Thanksgiving in 2000, Daddy's House annual food drive for underprivileged families took on a more special and somber meaning. Learning of the passing of civil rights leader Rev. Hosea Williams, Combs' was asked by the late leader's daughter to carry on his legacy. Combs' carried the torch of Rev. William's mission by sponsoring the annual Hosea's Feed the Hungry and Homeless Thanksgiving Day dinner for more than 30,000 people in Atlanta..
Sean "P. Diddy" Combs' career continues on the road of tireless and indomitable creativity. In ten years, he has used every minute to build, inspire, create and share the success of an entertainment empire. Sean's knack not only to create his own music, but his intrinsic ability to discover and nurture talent - as he did with Missy "Misdemeanor" Elliot, teen-sensation Dream, Jodeci and Mary J. Blige - is what keeps him at the top of the industry. Most recently Sean launched the careers of Black Rob, Carl Thomas, SHYNE, G. Dep and DREAM, all of who have already dominated charts and are being celebrated by fans across the world. Sean is ready to break into the millenium with more of the same success as he closely crafts and launches new Bad Boy artists Cheri Denis and Marc Curry. Sean's innate talent will continue to impress upon the entertainment industry, fans and society to closely follow his future.
Sean Combs is a proud father to sons Justin, 7, Christian, 3, and his nine-year old step-son Quincy and resides in Manhattan, New York.
---
©AfroAmerica Network, December  2003.
For contact, please e-mail us: mail@afroamerica.net
Please visit us at: http://www.afroamerica.net
http://www.afroamerica.net/rwanda.html
http://www.afroamerica.net/congo.html
http://www.afroamerica.net/afroamerica.html
AfroAmerica Network is owned by AroniSoft LLC, a Delaware company.
Please read the copyright and privacy notice at http://www.afroamerica.net/aronisoft.html
<![if !supportEmptyParas]> <![endif]>