Born in October 1959, the 56-year old John Pombe Joseph Magufuli is the incumbent President of Tanzania, in office since November 5, 2015. Since assuming office, he has shown unusual strength to fight deep-rooted corruption in Tanzanian public and private sectors.
He cancelled wasteful Independence Day celebrations, replacing them with street-cleaning activities, almost eliminated state dinners and directed the savings to adding more hospital beds and improving roadworks, cancelled unnecessary foreign travels for officials and banned the purchase of first-class air tickets, except for the president, his deputy and the prime minister.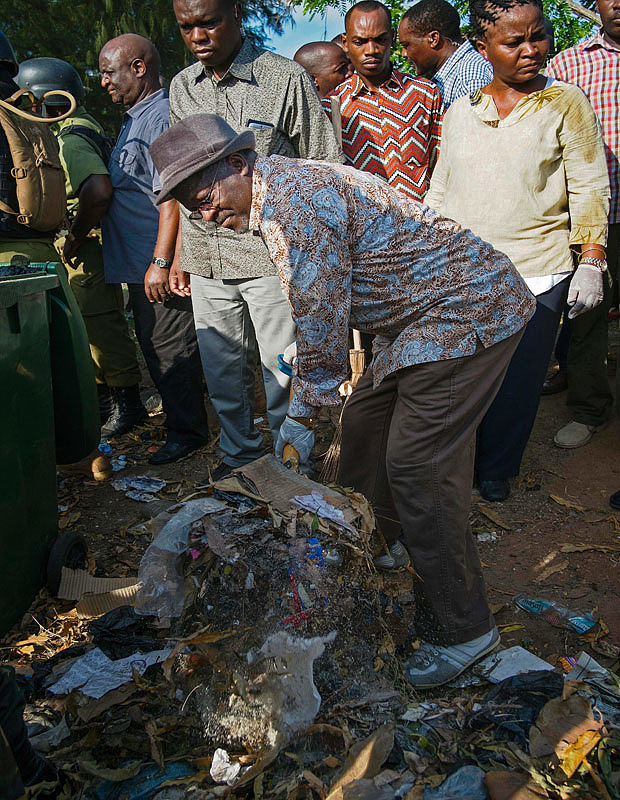 He has shown that he is ready to crack down on corruption and wasteful spending by his ministers and public service employees. He has ordered that government meetings, conferences, and workshops be held in government buildings rather than expensive hotels and restricted foreign missions to be composed only of the strict minimum of employees.
Photo: Tanzanian President John Pombe Magufuli cleaning up streets in Dar-Es-Salaam.
In just 2 months, John Pombe Joseph Magufuli has already transformed one of the rare democratic countries in Africa.
With master's and doctorate degrees in chemistry from the University of Dar es Salaam, in 1994 and 2009, he has been a teacher, a cabinet Minister, and the Deputy Minister and then Minister of Public Works.
On July 12, 2015 the ruling party Chama Cha Mapinduzi (CCM) nominated Magufuli as its presidential candidate for the 2015 election, defeating Justice Minister and former UN Deputy Secretary General Asha-Rose Migiro and African Union Ambassador to the United States, Amina Salum Ali.
During the general elections, he faced a stiff challenge from opposition candidate and CCM defector Edward Lowassa. Following the elections held on October 25, 2015, Magufuli was declared the winner by the National Electoral Commission on October 29. He received 58% of the vote. His running mate, Samia Suluhu, became the Vice President. He was sworn in on November 5, 2015.
His cabinet was announced on December 10, 2015. Composed of 19 ministries, the cabinet has 11 fewer ministries than the previous government of Jakaya Kikwete, some ministries having been merged as cost saving measure.
Just a few days ago, following up on his pledge to root out corruption, inefficiency, and wasteful spending, Tanzanian President John Magufuli suspended the powerful director general of the Reli Assets Holding Company (RAHCO), and ordered an investigation into possible irregularities in the awarding of a tender to build a standard gauge railway line.
At the same time, he disbanded the board of directors of RAHCO and the state-run operator of the country's railway, Tanzania Railways Limited (TRL) for failing to take action on irregularities in the railway tender.
This came after he dismissed the head of the government's anti-graft body for failing to tackle high-level corruption and sacked the head of Tanzania's port authority and the chief tax collector as part of his anti-graft campaign.
By tackling corruption head-on, John Pombe Magufuli appears to set new standards for Africa. Tanzania, already a democracy among the countries in Africa region, mostly ruled by ruthless dictators, appears to be on the way to being a powerful economic player in Africa and the World.