Harry Belafonte, a legendary Black musician, actor and civil rights activist has passed away in New York City, NY on April 25, 2023. He was 96 years old.


Harry Belafonte's achievements have contributed to set a foundation for Black actors and musicians, since the 1950s. In 1954, he won a Tony Award for his performance in John Murray Anderson's "Almanac". In 1959, he became the first Black performer to win an Emmy for the TV special "Tonight with Harry Belafonte." Harry Belafonte will likely be remembered as a civil rights activist and a humanitarian. Working with Dr. Martin Luther King Jr., he helped organize the 1963 March on Washington and supported protesters and activists financially, morrally and in other many ways. He also demonstrated against apartheid in South Africa.
Harry Belafonte: Black Iconic Musician, Actor and Civil Rights Activist.
Harry Belafonte was born Harold George Bellanfanti Jr. on March 1, 1927 in Harlem, New York from Caribbean-born parents.
He was one of the first Black men and performers to gain a wide following in music and film. The first Black man to sell a million records as a singer, he became famous for his many hits, including "Banana Boat Song (Day-O)," and "Day-O! Daaaaay-O."

In 1955, his solo album "Calypso" was released and quickly raised in popularity, becoming the first officially certified million-selling album by a solo performer and making him known as the "King of Calypso". He drew admiration and following from many young artists, including then the young Bob Dylan, in his early years, who also played harmonica on Belafonte's "Midnight Special."

In 1964, he and South African singer and activist Miriam Makeba, won a Grammy for the concert record "An Evening With Belafonte/Makeba."

He led the recording of the all-star, million-selling "We Are the World", a charity song for famine relief in Africa, which won the Grammy award.
---
Advertisement
Get the following books on Amazon: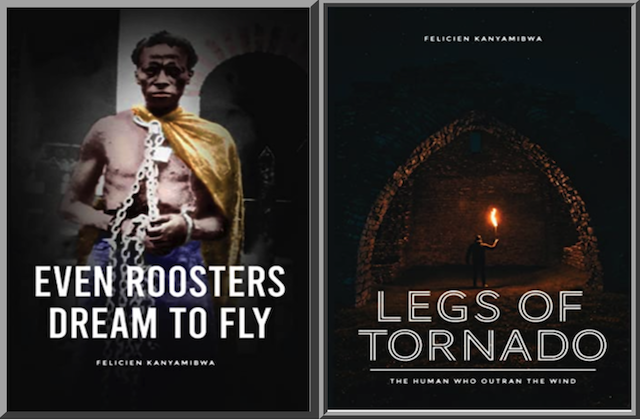 Even Roosters Dream to Fly: The Epic of a German White Catholic Priest and Manzi, a Freedom Fighter and a Mythological King of Rwanda.
Legs of Tornado: The Human Who Outran the Wind, an African tale about a human from a humble upbringing who outran the wind, defeated evil spirits, overcame his fate, became a respected clan chief, and triumphed ever after.
Even Roosters Dream to Fly along with Legs of Tornado are also available on Amazon worldwide and soon to several other platforms:
For more on the book, the author, the inspiration of the stories, Visit the author website here
---
Harry Belafonte: Black Man Role Model and Civil Rights Activist and A Personification of Integrity.
Harry Belafonte's reputation was cemented by his unwavering support and commitment for civil rights. Leveraging his celebrity, he dedicated a large portion of his life to civil rights activism, whether in Hollywood or in areas where the struggle of civil rights activism had more impact, including Washington, DC, the marches around the country, and the support of leaders around the World.
For that goal, Harry Belafonte helped organize, raised support for, and participated in protest marches and benefit concerts. A friend of the icon Rev. Martin Luther King Jr., he worked with him with his connections to the political and entertaining systems and financially.
Although a musician star, in the late 1950s, Belafonte organized benefit concerts for the bus boycot in Montgomery, Alabama and to support Rev. Martin Luther King Jr.
By the early 1960s, he had decided to make civil rights his priority. In his memoir "My Song", published in 2011, Harry Belafonte wrote, referring to his focus on civil rights movement: "I was having almost daily talks with Martin. I realized that the movement was more important than anything else."
His prominent roles and impact were highlighted in several movies, including Spike Lee's "BlacKkKlansman" (see here: Spike Lee's "BlacKkKlansman": A Movie About Contemporary Issues and Conversation) and "I Am Not Your Negro" ( see I Am Not Your Negro: A Movie I Invite All Americans to Watch ).
In the BlacKkKlansman, a group of black students and activists were intently listening to an old man, played by Harry Belafonte, recounting his testimonies about witnessing the lynching of his best friend in Texas around the time "The Birth of a Nation" was playing in theater.
Harry Belafonte never missed the opportunity to challenge the young blacks, whether famous or needing a guidance, to be good role models or to raise to the occasion. For famous Black celebrities, including politicians and entertainment stars, he challenged them to raise to high standards and meet their "social responsibilities." He also mentored and provided guidance to many young celebrities.
President John F. Kennedy often sought his opinions on political issues impacting the Black community. Harry Belafonte connected him with Rev. Martin Luther King, Jr.
His path on Civil Rights Movement was marked by several key events, including:
In 1963, Belafonte, supported by Sidney Poitiers, was deeply involved with the historic March on Washington;

In 1964, working with Sidney Poitier, following the murder of three "Freedom Summer" volunteers, he delivered tens of thousands of dollar to activists in Mississippi;

Since 1968, following the assassination of Rev. Martin Luther King, Jr. he has been supporting his family

In 1990, he was at the forefront of organizing South African freedom fighter Nelson Mandela's first visit to the U.S., after being released from prison in 1990;

On February 1, 2013, Belafonte received the NAACP's Spingarn Medal;
Harry Belafonte will be remembered for his unique artistic achievements, his integrity, his humility, and his unequivocal drive to courageously support, with all means, the civil rights movement, in critical times.
He founded Sankofa, an organization with the goals to educate, motivate, and activate artists and others to engage in grassroots movements and promote equitable change.
At his death several prominent actors, movie stars, politicians and activists paid tributes. These include the following and many, many more.
US President Joe Biden stated: " Harry Belafonte was born to Caribbean parents in Harlem, New York on March 1, 1927, when segregation was the order of American society. To our Nation's benefit, Harry never accepted those false narratives and unjust boundaries. He dedicated his entire life to breaking barriers and bridging divides. ... Harry Belafonte's accomplishments are legendary and his legacy of outspoken advocacy, compassion, and respect for human dignity will endure. He will be remembered as a great American.".
Former US President Barack Obama stated: "Harry Belafonte was a barrier-breaking legend who used his platform to lift others up. He lived a good life – transforming the arts while also standing up for civil rights. And he did it all with his signature smile and style. Michelle and I send our love to his wife, kids and fans." .
Spike Lee, who directed Belafonte's final film, 2018's BlacKkKlansman, wrote: "May God Have My Dear Friend Harry Belafonte At A Peaceful Rest. We Are Losing Our Giants Left And Right. We Have To Celebrate Our Elders While They Are With Us."
Vice President Kamala Harris said: "Harry Belafonte was one of our nation's most powerful voices for change. ... Like all true patriots, Harry Belafonte had the ability to see what could be and had the courage to work to realize that vision. He fought to help America live up to our highest ideals: dignity, equity, and justice for all. For years, it was my honor to call Harry a dear friend and rely on his wisdom and counsel. America has lost a giant."
Bernice King, daughter of The Rev. Martin Luther King Jr, tweeted: "When I was a child, Harry Belafonte showed up for my family in very compassionate ways. In fact, he paid for the babysitter for me and my siblings. ... I won't forget. Rest well, sir."

The Rev. Al Sharpton stated: "Harry Belafonte was a true mentor and friend. I am heartbroken to hear of his death but inspired by the long, fruitful life he led. He realized his platform gave him the ability to affect change. He used it to advance the civil rights movement and get others in his position off the sidelines. I cherished the time he would give me and others to both guide and correct us. He was a culture-changing entertainer, a history-changing activist and an unmatchable intellectual. Rest in peace and power, Mr. B." —
Oprah Winfrey tweeted: "Another 'GREAT TREE' has fallen: Harry Belafonte, a Trailblazer and Hero to us all. Thank you for your music, your artistry, your activism, your fight for civil rights and justice — especially risking your life back in the day to get money to the movement. Your being here on Earth has Blessed us all.."
Actor Viola Davis stated: "You used your profile and gifts to leave a legacy of activism, of hope, dignity ... excellence. Thank you for your vision and talent. Thank you for being a beacon. You are now amongst our beautiful ancestors .... continue to guide us!"
©2023 AfroAmerica Network