Simone Biles,  the most decorated gymnast in the World championships history has added a new medal to her count. On Thursday, July 7, 2022, US President Joe Biden awarded Simone Biles the Medal of Freedom, the nation's highest civilian honor. Simone Biles hence becomes the youngest person to win the Medal of Freedom.  
Simone Biles, 25,  the most decorated American gymnast in history was awarded the Medal of Freedom for her courageous and relentless  advocacy  for victims of sexual assault, civil rights, and health care. Awarding the medal, President Joe Biden praised Simone Biles' relentless effort and unbated courage "to turn personal pain into a greater purpose, to stand up and speak for those who cannot speak for themselves". 
Simone Biles, as a world gymnast, has maintaned her status of  a historic role model,  record holder,  champion, but most importantly, somebody who cares about core values, including standing for those who can't and being a voice for the voiceless.  She has become a role model for many young gymnasts looking up to her and emulating her integrity. ( see here: 2020 Tokyo Olympics: Simone Biles Wins Bronze, Becoming the Most Decorated Olympian in American Gymnastics History.)
With Simone Biles, the following 16 other people received the Medal of Freedom from President Biden:
---
Advertisement
Get the following books on Amazon: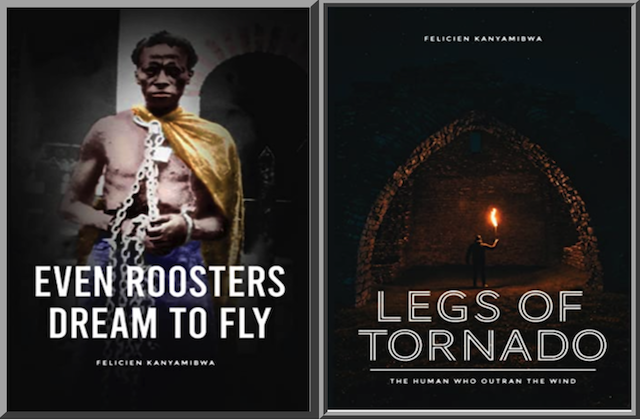 Even Roosters Dream to Fly: The Epic of a German White Catholic Priest and Manzi, a Freedom Fighter and a Mythological King of Rwanda.
Legs of Tornado: The Human Who Outran the Wind, an African tale about a human from a humble upbringing who outran the wind, defeated evil spirits, overcame his fate, became a respected clan chief, and triumphed ever after.
Even Roosters Dream to Fly along with Legs of Tornado are also available on Amazon worldwide and soon to several other platforms:
For more on the book, the author, the inspiration of the stories, Visit the author website here
---
Diane Nash, a civil rights movement organizer who worked closely with Dr. Martin Luther King Jr.;
Denzel Washington, the renowned actor and movie star ;
the late Senator John McCain, R-Ariz., a decorated Vietnam War veteran;
Former Congresswoman Gabby Giffords;
the late Richard Trumka, former president of the AFL-CIO and United Mine Workers; 
 Megan Rapinoe, 

soccer star and woman rights activist;

Fred Gray, 91-year old, a civil rights attorney, preacher, and activist in Alabama,  one of the first Black members of the Alabama state legislature since Reconstruction. He sered as an attorney for  Rosa Parks, the NAACP, and Martin Luther King;
Retired Brigadier General Wilma Vaught, the  most decorated woman in the history of the US military;
Sandra Lindsay, a critical care nurse who was the first American to receive a Covid-19 vaccine outside of clinical trials;
 Dr. Julieta García, the first Hispanic woman to serve as a college president;
 Sister Simone Campbell, a Catholic social justice leader;
Father Alexander Karloutsos, the former vicar general of the Greek Orthodox Archdiocese of America;
Raúl Yzaguirre, a  civil rights advocate who served as CEO and president of National Council of La Raza
Sen. Alan Simpson, former Republican  senator of Wyoming;
Khizr Khan, Gold Star father;
the late Apple cofounder and CEO Steve Jobs.
Simone Biles first made history in Stuttgart, Germany, on Sunday, October 13, 2010.  She then dominated  everywhere: floor, vault, and beam (see: Simone Biles Wins 25th Gold and Becomes Most Decorated Gymnast In World Championship History).
Commenting on her unparalled medal counts, Joe Biden said in a chuckle, while awarding Simone Biles the Medal of Freedom: "Today, [Biles] adds to her medal count of 32 - I don't know if you're gonna find room,"
.   Since then, she has been the top Gymnast and sports star.
©2022 AfroAmerica Network.