World soccer legend and the best soccer player of all time, Edson Arantes do Nascimento, widely known around the world as Pelé, has passed away in São Paulo, Brazil. He was 82 years. Pele, a black man from Brazil, was born in the country side. He quickly rose to fame in his teens to became the most influential sport star. He was labelled "the greatest" by the Fédération Internationale de Football Association (FIFA).
He played in his first World soccer cup in 1958, when he was 17-years-old. He then scored 2 goals in the final game against Sweden. The two goals were exceptional, as he scored the first by lifting the ball over the defenders and hit it into the net and the second by a head kick.
With that win, Brazil became even more prominent around the World and the Blacks in Brazil became more visible than before.
His soccer star career lasted around 20 years. For his entire career, he only played for the soccer teams in Brazil, except a short time in the US, with the New York Cosmos.
His soccer career was distinguished by three World Cup titles and over 1,273 goals according to Guinness World Records (in 2015, Pelé tweeted that he had scored 1,283 goals across his career). Hence, he appeared in more World cups than any other player in history. He expelled with several unique skills.
---
Advertisement
Get the following books on Amazon: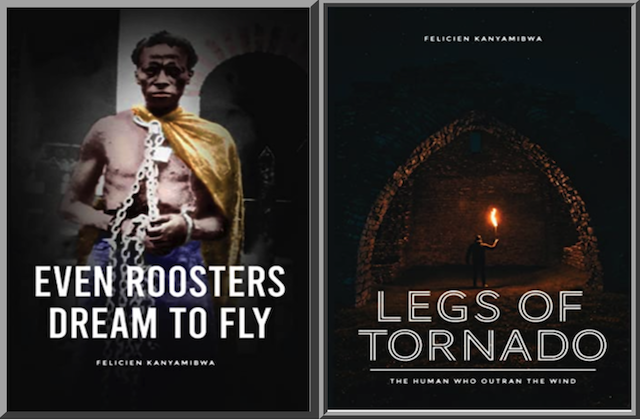 Even Roosters Dream to Fly: The Epic of a German White Catholic Priest and Manzi, a Freedom Fighter and a Mythological King of Rwanda
Legs of Tornado: The Human Who Outran the Wind, an African tale about a human from a humble upbringing who outran the wind, defeated evil spirits, overcame his fate, became a respected clan chief, and triumphed ever after
Even Roosters Dream to Fly along with Legs of Tornado are also available on Amazon worldwide and soon to several other platforms:
For more on the book, the author, the inspiration of the stories, Visit the author website here
---
He was well known for his exceptional skills including head kicks, dribbling the ball off the shin, bicycle kicks, leap upwards at an airborne ball followed by backward rockets.
Pelé was born Edson Arantes do Nascimento on 23 October 1940, in Três Corações, Minas Gerais, Brazil. His parents were João Ramos do Nascimento, a football player of Fluminense Football Club also known as Dondinho and Celeste Arantes, a houseworker. He was named after the American inventor Thomas Edison, but the i in his Edison was dropped, to become Edson.

Pelé grew up in poverty in Bauru in the state of São Paulo, working in tea shops as a servant to make a living. He was watching his father competing professionally while he played in the streets, under the name of "Pele", and then in youth leagues.
He was discovered by a former Brazilian national team player, who coached him and helped him to go into the professional team of club Santos, near São Paulo at age fifteen. He also practiced judo and karate at the gym.
His path to stardom had taken off.

After his football career, he engaged into political roles, including UN ambassador for ecology and the environment in 1992, UNESCO Goodwill Ambassador in 1994, and Extraordinary Minister for Sport in 1995, when he was appointed by Brazilian President Fernando Henrique Cardoso.
His legacy remains diviided.
On one side, he is celebrated for his greatness, for having set a path for Blacks in Brazil, despite the deeply rooted racism in Brazil.
On the other, he has been criticized for his resistance to use his fame in order to speak for Blacks and to raise a voice against racism.
©2022 AfroAmerica Network