Apple's (NASDAQ:AAPL) stock remain in the record high range on Friday, when its price reached $504.05 and its market capitalization increased to $ 2.135 trillion. The 52-Week Range was $201.22 - $515.14. Stock market futures are higher, as getting Ready for for Apple (AAPL) and Tesla (TSLA) stock splits. The 4-for-1 stock split will happen on Monday August 31, 2020.
Stocks driving the momentum are mostly high tech.
What is in the Momentum?
Stocks markets including Alphabet (GOOG, GOOGL), Amazon (AMZN), Apple (AAPL), Facebook (FB), and Tesla (TSLA) stock prices have been soaring. The new high prices have led two companies, Apple and Tesla, to consider stock splits. The stocks split on Monday comes with the expectation of setting new record highs, just before the split. Tech stocks have boosted market sentiment.
AroniSmart Team has conducted Sentiment and Valence analysis and found a string positive sentiment. Based on the analysis, the next weeks may continue to see booming markets and sustained momentum of tech stocks. Drivers are related to economic data, spending and income. Below is a quick AroniSmartIntelligence™ sentiment and valance analysis, with a sample of Positivity and Negativity words and key stocks.
For more details, run AroniSmartInvest and AroniSmartIntelligence Sentiment Analysis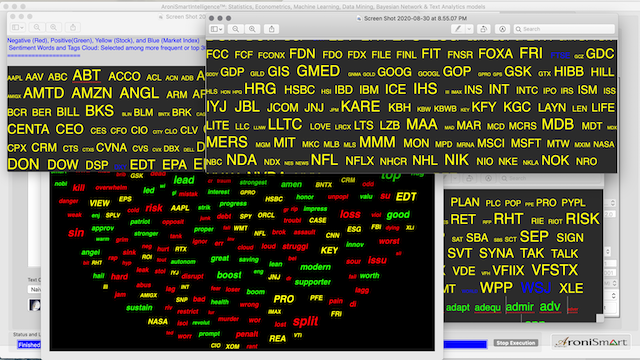 Key positive sentiment words:
beaut, breakthrough, boom, clear, easiest, enthusiasm, gratitud, greatest, integr, intellig, noteworth, recommen, remark, safety in numbers, stronger, strongest,supporter, winner, wisdom,
Key negative entiment words:
abrupt, aggress,assault,atroph, bleak, deterior, disaster, drought, dying , expen, imposit, insolut, inten, intermitt, murderer, narrower,overweightt,oubreak, pain, pan,shallow, sham, shart, slash, struggl, stumbl, stupid, tout ulterior, troubl, unhapp
---
Advertising:
GET ARONISMARTLYTICS on App Store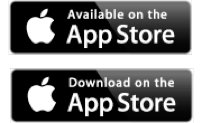 AroniSmartIntelligence, the leading tool for Advanced Analytics, Machine Learning & Data Science
Statisticians, Data Scientists, Business and Financial Analysts, Savvy Investors, Engineers, Researchers, Students, Teachers, Economists, Political Analysts, and most of the practitioners use Advanced Analytics to answer questions, to support informed decision making or to learn.
AroniSmartIntelligence™ is a leading Advanced Analytics, Machine Learning and Data Science tool, with optimized cutting edge Statistics models, Econometrics, Big Data and Text Analytics.
AronismartIntelligence™ includes modules covering Machine Learning and Big Data mining, Unstructured Text Analysis, Sentiment and Emotion Analytics, Bayesian Statistics and other advanced analytics.
---