American Serena Williams, six-time World woman tennis champion and 23-time Grand Slam champion announced that she plans to retire after the 2022 US Open. Meanwhile, in a remarkable second-round game and an outstanding coming back, on Arthur Ashe Stadium in Flushing Meadows, New York on August 31, 2022, Serena Williams beat second seed Anett Kontaveit. With the win, she delayed her final match before the retirement.

Serena Williams, 40, announced her retirement to focus on her family and other ventures (see here- Tennis: American Serena Williams Announces Retirement after the Upcoming 2022 US Open). In the open match on Monday, August 29, 2022 Serena Williams was in full shape and pomped up, when she easily beat Danka Kovinic of Montenegro by 6-3, 6-3.
The US Open Women Tennis second rround game on Arthur Ashe Stadium in Flushing Meadows, New York on August 31, 2022 opposed Serena Williams, who is now ranked 605th and will turrn 41 in October 2022 against second seed Anett Kontaveit, 26, from Estonia.
The first set went to a tiebreak, and ended with a 7-6 win by Serena Williams. Then, in the second set, Annet Kontaveit bounced back and handidly won the set, 6-2. When the third set started, Serena Williams appeared to calm down, refocused, became more proactive, and finally, supported by a very enthusiastic and ignited crowd of fans, came back with a vengeance and powerful serves, winning 6-2 in the third and last set.
Serena Williams, dressed in a black Nike dress with sparkling diamond adornments, dominated the game with better serves than in previous tournaments in Cincinnati and Canada.
The crowd was overjoyed. Among the fans were A-List celebrities, including golf superstar Tiger Woods, soul singer Gladys Knight, actor and movie producer Spike Lee, actress Zendaya, Tennis star Billie Jean King, start singer Dionne Warwick, and other stars including Amy Schneider, Anthony Anderson, Chelsea Handler, Jason Collins Bella, Gigi Hadid, La La Anthony, and Steve Nash.
Serena's relatives and family members were also present including Alexis Ohanian, her husband; Alexis Olympia Ohanian Jr., her daughter; Oracene Price, her mother; Tennis star Venus Williams, her sister; and Vogue Magazine journalist Anna Wintour.
Some politicians attended Monday and Wednesday games. They include NY Gov. Kathy Hochul, former US President Bill Clinton, and Mayor Eric Adams of New York.
Tiger Woods was greeted by Venus Williams during the first set. Serena Williams and her sister Venus Williams, 42, will play against Lucie Hiradecka, 25, and Linda Noskova, 17, from Czeck Republic in Women's Double Round 1.
---
Advertisement
Get the following books on Amazon: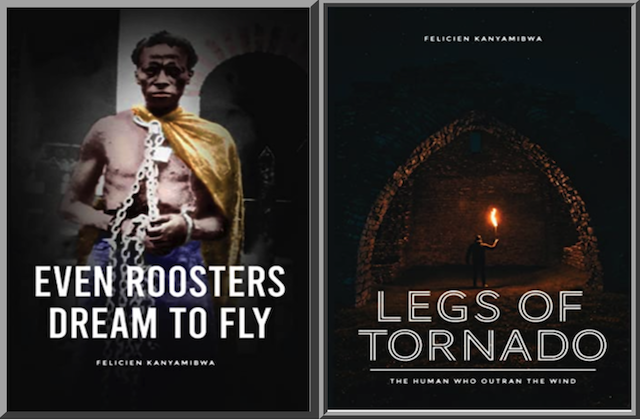 Even Roosters Dream to Fly: The Epic of a German White Catholic Priest and Manzi, a Freedom Fighter and a Mythological King of Rwanda.
Legs of Tornado: The Human Who Outran the Wind, an African tale about a human from a humble upbringing who outran the wind, defeated evil spirits, overcame his fate, became a respected clan chief, and triumphed ever after.
Even Roosters Dream to Fly along with Legs of Tornado are also available on Amazon worldwide and soon to several other platforms:
For more on the book, the author, the inspiration of the stories, Visit the author website here
---
With the win, Serena Williams will head to the third round, and play, for the first time, against Ajla Tomljanovic.
The performance of Serena Williams as the US Open 2022 tournament was about to start in New York was debatable. In fact, Serena Williams has only played four times, since she recovered from injuries that took her off the games for more than 11 months. Her last game against British number one Emma Raducanu in Cincinnati was a disappointment. She had continued to struggle with a knee injury in the build-up to the US Open. On top of that, most of her opponents are way much younger than her.
If she wins the 2022 US Open, she will retire after 20 years of dominating Women's tennis and with a historic legacy, that would include 24 wins, and has inspired and continue to inspire many young girls, women, and people of color to dream big and reach higher goals.
Commenting on Serena's decision to retire, World number 12 Coco Gauff, 18, said that Serena Williams was "the reason why I play tennis" and her legacy will "inspire many more generations."
Coco Gauff may be one of the top contenders of the US Open 2022.
Go Serena!!!
---
Advertisement
AroniSmartIntelligence™, the leading tool for Advanced Analytics, Machine Learning & Data Science
Statisticians, Data Scientists, Business and Financial Analysts, Savvy Investors, Engineers, Researchers, Students, Teachers, Economists, Political Analysts, and most of the practitioners use Advanced Analytics to answer questions, to support informed decision making or to learn.
AroniSmartIntelligence™ is a leading Advanced Analytics, Machine Learning and Data Science tool, with optimized cutting edge Statistics models, Econometrics, Big Data and Text Analytics.
AronismartIntelligence™ includes modules covering Machine Learning and Big Data mining, Unstructured Text Analysis, Sentiment and Emotion Analytics, Bayesian Statistics and other advanced analytics.
---