Rwandan dictator General  Paul Kagame has launched a major shakeup of the country's military,  with a series of firing and dismissals and a reshuffle of the military leadership, including the appointment of a new defense minister, army chief and head of internal security. The actions by General Paul Kagame did not come as a surprise. 

In fact, after almost 3 decades of respite, apart a few here and there, waves of military coups and coup attempts have returned in Africa, again. The stakes are high and some leaders, especially those labelled dictators, are already preparing for potential coups against their reign, readying and organizing their close associates and family members for the worst scenarios. One of these leaders is the Rwandan dictator General Paul Kagame,  who has been keeping a pretty low profile but did not hide his worries during recent interviews with the media. 
Possibility of a Military Coup in Rwanda: Rwandan Dictator Paul Kagame has been telling the media.
As reported by AfroAmerica Network on January 28, 2022, in an interview with French-African media,  Rwandan President and known dictator Paul Kagame, was asked several questions regarding his government and decades of unchallenged despotism.
Among the questions, two stood out: whether he was a dictator as widely known around the World and whether a military coup is possibility in Rwanda.
   Regarding a potential military coup attempt against his rule, General Paul Kagame said:
"I don't know, for sure,  but  it is a possibility. However, let me explain my view in a different way. First and foremost, Rwandans are the ones who say what they think, what they come from, what we have done and what we are doing. Second, I have been trying to examine and figure out about things that could make either the military or other groups so enraged to the point of attempting a coup against me."
(see here  Africa: Military Coups Against and For Dictators Trending Up; Imminent Military coup in Rwanda is a possibility, Rwandan President Paul Kagame tells media.)
His interview followed early reports on the worsening political and security situation in Rwanda. Over the last three years, as the  Rwandan Dictator Paul Kagame's health had been declining, top military leaders suspected of planning a coup had been jailed or put under a close watch.

Meanwhile, the Rwandan Defense Forces (RDF)  under the cover of the Congolese M23 Rebels invaded  Eastern DRC,  blaming  FDLR and RUD-Urunana Rwandan rebels for the reason for the invasion, and trying  coup attempts against the President of the DRC, Felix Tshisekedi. So far, the invasion of DRC by the Rwandan military,  condemned by most international organizations and governments around the World, including key world powers,  has stalled  and actually on the brink of failure.  (DR Congo - Rwanda: US Government Finally Confirms that Rwandan Troops Have Invaded DR Congo, Under the Cover of M23 Rebels ?) and (DR Congo - Rwanda:  Increasingly Isolated in the Region and the World for Its invasion of DRC, Is Rwandan Government Ready for Another Defeat?)
The failing invasion has worsened the financial situation and the Rwandan military companies, except the presidential guard and top security forces,  are no longer regularly receiving their monthly pay. In fact, over decades, the Rwandan government has been relying  on the looted mineral resources from the DRC to cover the government expenses.
---
Advertisement
Get the following books on Amazon: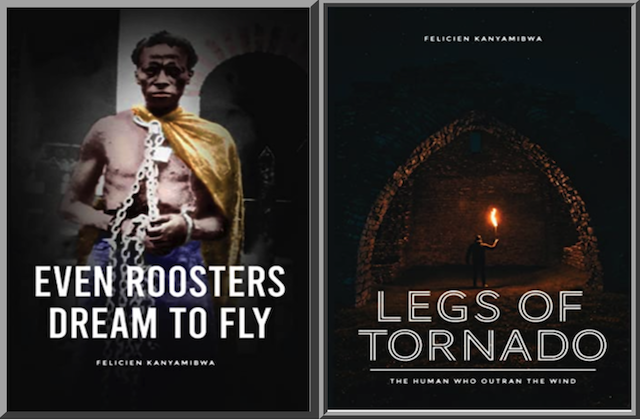 Even Roosters Dream to Fly: The Epic of a German White Catholic Priest and Manzi, a Freedom Fighter and a Mythological King of Rwanda
Legs of Tornado: The Human Who Outran the Wind, an African tale about a human from a humble upbringing who outran the wind, defeated evil spirits, overcame his fate, became a respected clan chief, and triumphed ever after
Even Roosters Dream to Fly along with Legs of Tornado are also available on Amazon worldwide and soon to several other platforms:
For more on the book, the author, the inspiration of the stories, Visit the author website here
---
On-going Purging of Potential Military Opponents and Suspected Coup Attempt Supporters.
On January 2021, Gen. Albert Murasira, then Minister of Defense who was dismissed in the latest reshuffle,  was held under a close watch after information was obtained that he was planning to flee the country. He was  accused of being too close to the key top military officers arrested the year before and opposed to the planned takeover of power by military leaders supporting Ms Ange Kagame, the daughter of Paul Kagame who has been prepared to inherit her father's throne.
Recently, the option was shifted to train Ange Kagame's controversial brother Lt Ian Kagame  (see   DR Congo - Rwanda - Uganda: Growing Opposition Against Felix Tshisekedi; Paul Kagame and Yoweri Museveni Readying their Sons for the Thrones; M23 Leaders Condescend to Burundi President Evariste Ndayishimiye).  The faction supporting Ange Kagame and Ian Kagame is composed of former refugees who came from Burundi and the Democratic Republic of Congo and led by General Jean Bosco Kazura, who was the Chief of Defense Staff in Rwandan Defense Forces and head of Burundi desk, but has been replaced to focus more on the succession.

In 2021, the top military leaders detained in safe houses,   under close watch,  or under house arrest included General James Kabarebe, General Patrick Nyamvumba, General Charles Kayonga, Lieutenant General Karake Karenzi, and Maj. Gen Albert Murasira.
The lockdown decision was then signed by the Prime Minister Dr Edouard Ngirente, also known as General Paul Kagame's "Glorified Administrative Assistant", given that he has no real power, despite his position. Dr Eduard Ngirente, also known as "No Way Out", from his name,  has been signing some government acts and executive orders, since General Paul Kagame became ill.
Maj. Gen Albert Murasira was later released because his name was on the key leaders designed to manage the military cooperation between the US and Rwanda known as "Status of Forces Agreement (SOFA)". But it was a matter of time before his ousting. 
   On May 17, 2022 sources within the Rwandan Department of Military Intelligence told an AfroAmerica Network correspondent in Kigali that the key top Rwandan military commanders and leaders  that have been under house arrest or watch, were arrested and their accusations of preparing a coup were reinforced. Those arrested included General James Kabarebe, General Patrick Nyamvumba,  and General Charles Kayonga. (see Rwandan Top Military Leaders, Suspected of Planning a Coup, Arrested in Kigali, Rwanda).
    According to the sources,  the Minister of Defense, Maj. Gen. Albert Murasira, was one, among many,  remaining under close watch as he continued to play a role in the military cooperation with foreign countries.   He has now been replaced by another person, Juvenal Marizamunda, who had a similar journey as him.
Both Maj. Gen. Albert Murasira and Lieutenant Colonel Juvenal Marizamunda  were both army officers under the Forces Armees Rwandaises, known as ex-FAR, defeated by the current ruling military regime in Rwanda, led by the Rwandan Patriotic Army.
Maj. Gen. Albert Murasira  quickly rose through the ranks, when  he joined the ex-FAR in 1988  after completing a Bachelor's degree at the Rwandan National University (UNR) and completing  advanced military courses. 
When the FAR were defeated in 1994, he fled to the Democratic Republic of the  Congo,  then Zaire along with the ex-FAR officers. He was later recruited by Rwandan Patriotic Front and repatriated to join the current Rwandan Defense Forces, along with a few other ex-FAR officers. Most of those who repatriated with him were later arrested or killed.
Lt Colonel Juvenal Marizamunda and his wife, Colonel Seraphine Nyirasafari were also both army officers under the Forces Armees Rwandaises, known as ex-FAR.   Juvenal Marizamunda survived the  massacres and genocide in Tingi Tingi, DRC  committed by the Rwandan Defense Forces against the Rwandan refugees and Congolese civilians. He reached the country of Gabon and was forcefully repatriated to Rwanda where he was integrated into the RDF.
Colonel Seraphine Nyirasafari who was at some point acting Director General of the Armed Forces Shop (AFS) was integrated in Rwandan Patriotic Army way before her husband and has reportedly played a major role in getting her husband released and integrated into RDF, when most of those forcefully repatriated from Gabon with her husband were killed and made disappear.
Shuffle and Dismissals of Military Without Unexplained Reasons.
The latest shuffle and dismissals  of military leaders were made without giving any reasons, other than  "indiscipline.". Among those dismissed are  two long-serving generals, Major General Aloys Muganga and Brigadier General Francis Mutiganda who were required "to hand over military equipment and leave the army without any benefits, because of what they did," the RDF spokesperson told the media.
Additional 14 officers  and  228 low rank military soldiers were also dismissed.
General Paul Kagame appointed two key close associates: Gen  Mubarak Muganga as the new chief of defense staff, and  Gen Vincent Nyakarundi, aka Gen Nyagatindi or "Miserable General",  as army chief of staff.
General Vincent Nyakarundi has a controversial background. In 2019, as a the Defense Attaché at Rwanda's embassy in Washington, U.S.A,  in the Washington, USA and Defense Attaché at Rwanda's High Commission in Ottawa, Canada, he was accused of spying and threatening the lives of Rwandans, Americans, Canadians, and political opponents living in these countries. Alerted by the police in the two countries, the  governments of USA and Canada reportedly expelled Gen Vicent Nyakarundi for criminal activities.
Once in Rwanda, Brig Gen Vincent Nyakarundi was awarded the coveted position of Chief of Defense Intelligence in charge of Defence Intelligence Department (DID), by General Paul Kagame. 
General Vincent Nyakarundi  and  Gen  Mubarak Muganga are expected to work closely with General Jean Bosco Kazura, whose job will now focus on preparing the succession of General Paul Kagame, according to sources
(see DR Congo - Rwanda - Uganda: Growing Opposition Against Felix Tshisekedi; Paul Kagame and Yoweri Museveni Readying their Sons for the Thrones; M23 Leaders Condescend to Burundi President Evariste Ndayishimiye ). General James Kabarebe, who has become irrelevant, is expected to retire or  to be sent outside the country on insignificant diplomatic missions.
Meanwhile, among the dismissed military officers, some have already disappeared. 
AfroAmerica Network is still following the dynamics  will give report on developments
@AfroAmerica Network 2023