On Sunday 19, 2022, as the US was commemorating JuneTeenth, a major event involving Blacks happened in South America: Francia Márquez, a vice presidential candidate and running mate of Gustavo Petro become the First Black in Columbia to be elected Vice-President. With the win, Francia Márquez has become a phenomenon.
The Petro-Márquez ticket won Sunday's runoff election, beating Rodolpho Hernández and Dr. Marelen Castillo. Francia Márquez, 40, hails from the mountainous department of Cauca in southwestern Colombia. As the running mate of Gustavo Petro, she helped raise the issues facing Colombians, especially Blacks, including those related to racial equality, economic justice, and voter frustration.
In Colombia, Blacks or Afro-Colombians, have historically and consistently faced major challenges, including open racism and structural barriers to economic and social benifits available to other racial groups. The issues were compounded by the society which is ruled by upper economical classes under the grip of kingmakers and powerful famillies.
The success of Francia Márquez is even remarkable as she comes from a very poor family. According to reports she grew up in a village with a violent environment, was sleeping on a floor as a child and teenage, was pregnant as 16 years old, and had to work in a gold mine and as a live-in maid to support her child.
She often, during politicall rallies, highglighted that she was running "because [the previous] governments have consistently turned their backs on the people, and failed tot promote justice and peace."
---
Advertisement
Get the following books on Amazon: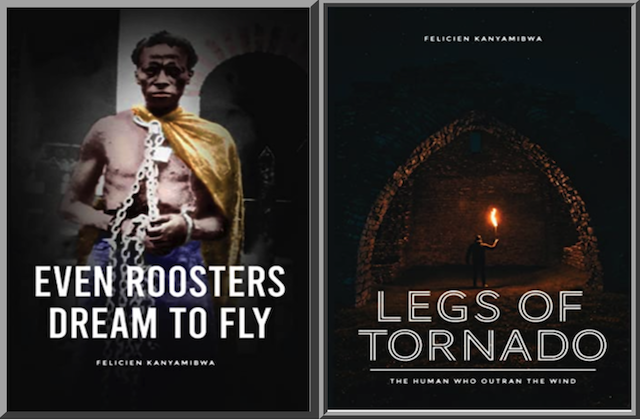 Even Roosters Dream to Fly: The Epic of a German White Catholic Priest and Manzi, a Freedom Fighter and a Mythological King of Rwanda.
Legs of Tornado: The Human Who Outran the Wind, an African tale about a human from a humble upbringing who outran the wind, defeated evil spirits, overcame his fate, became a respected clan chief, and triumphed ever after.
Even Roosters Dream to Fly along with Legs of Tornado are also available on Amazon worldwide and soon to several other platforms:
For more on the book, the author, the inspiration of the stories, Visit the author website here
---
In recent decades, Colombia has made progress but inequality remains a major challenge and forty percent of the people live in abject poverty, with most of them being Blacks or from indigenous and rural communities. Colombia has faced a major running war that ended with the August 24, 2016 peace agreement between the government and the Revolutionary Armed Forces of Colombia, or FARC, to end the 50 years civil war (see Colombia Opponents Try Again to End Longest Running War in the Americas: A Model for African Conflicts? and Colombian President Juan Manuel Santos Wins Nobel Prize for His Efforts To End Longest Running War in the Americas: A Role Model for African Leaders?)
Gustavo Petro, 62, the next President of Columbia, is a former member of M-19, and longtime legislator and, hence, will become the country's first leftist president. M-19, that he joined when he was 17 years old, was an urban rebel group formed by university students, activists and artists to fight against a governing system, perceived to promote only the interests of the rich families hailing mostly from one racial group and powerful families and kigmakers. He was arrested and spent time in jail.
M19 demobilized in 1990 in a peace process, becoming a political party and helping to introduce into the new constitution specific provisions focusing on equality, justice and human rights.
After the elections results were announced, Colombian people, especially the young and progressive groups, cheered the results. However, the economic upper class and powerful families were not happy and some used controversial statements, including racist views, to express their sentiments.
Some point to her race, her lower economic class, or her lack of experience in politics, despite the fact that she was a very effective environmental and social justice activist.
Rodolpho Hernández , 73, is a wealthy businessman, whereas Dr. Marelen Castillo, from a middle-class Black family, has been a top director of a private Catholic university in Bogotá, the capital.
© 2022 AfroAmerica Network
---
Advertisement
---