"Pastor Rick Warren has played a role in the creation of Peace Plan organization, but it is not his initiative, as the idea came from other people who co-founded the organization. In the first and second year, Rich Warren attended the annual conference of Peace Plan and contributed some money. But now, we thank God for not allowing Rick Warren to attend Peace Plan conferences and not allowing him to give his money. We praise God for the fact that Rick Warren has not been in Rwanda for a while, because when he comes, he hijacks actions that are not his and people are mislead  and attribute him the Peace Plan conference." 

It is in these harsh words that Alexis Bishop Birindabagabo, the head of Peace Plan and a close confident of Rwandan dictator General Paul Kagame expressed the desire
to see American pastor Rick Warren stay away from the organization he co-founded and, most importantly,  out of  Rwanda.  He was addressing the media about the outcome of the 5th conference held on August 7, 2016.
Peace Plan is an inter-faith association of church and religious leaders in Rwanda, aimed at supporting Rwandan government policies. Peace Plan holds a yearly conference, called "Rwanda Shima Imana [English: Praise God, Rwanda].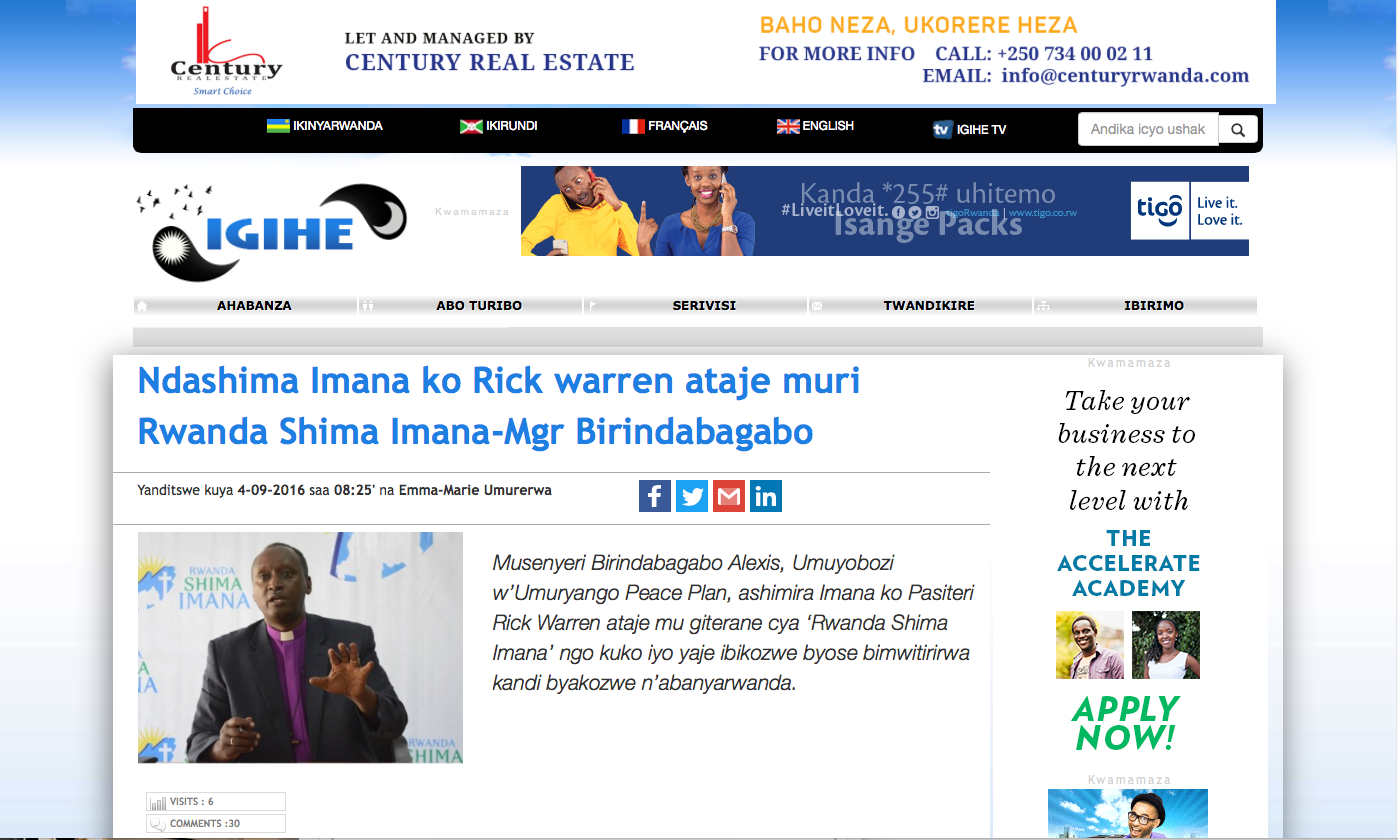 The statements were published in the media close to the government, mostly Igihe (see www.igihe.com). The article has since been taken down, but not before AfroAmerica Network captures the screens shots (see one screenshot on the left). According to AfroAmerica Network sources close to the Rwandan government , the order to take down the article was given by the Rwandan president's office.
 Screenshot of Igihe article published on Sep 4, 2016: God does not want Rick warren, in Rwanda
Pastor Rick Waren is the leader of a US mega christian Saddleback Church,  in Lake Forest, California. He has been one of the top personal advisors to the Rwandan dictator General Paul Kagame for more than 2 decades. While traveling to Rwanda, he was given the status of a head of state, traveling in government military helicopters in his trips across the country with the Rwandan President's security guard.
Pastor Rick Warren's controversial links to General Paul Kagame, accused of being one the most repressive tyrants in Africa and targeted and large scale massacres and assassinations across Africa, have been denounced by several human rights activists, christians and political opposition leaders.  Dr. Theogene Rudasingwa, a leader of one of the most prominent Rwandan opposition groups in exile told a meeting at the Palais de Luxembourg, in Paris, on April 1, 2014, that Rick Warren was among General Paul Kagame's powerful facilitators  around the world.
"Through lobbying, public relations, and access to the media, these facilitators help President Kagame's self-promotion abroad, and shield him from accountability for the crimes he commits on Rwanda, DRC and abroad. The loudest and most powerful in the whole group are Tony Blair, President Bill Clinton, and the American evangelist, Rick Warren. They market President Paul Kagame as one of the most visionary leaders in the world," said Dr Theogene Rudasingwa. Dr Theogene Rudasingwa was  Secretary General of the Rwandan Patriotic Front, the Private Adviser to General Paul Kagame when he became president and, most importantly, he was the first ambassador to United States, of the RPF government.(see our article BILL CLINTON, TONY BLAIR, AND RICK WARREN, LOUDEST SUPPORTERS OF RWANDAN DICTATOR PAUL KAGAME, SAYS RWANDAN OPPOSITION LEADER RUDASINGWA of April 6, 2014).
Now the question is: what happened between General Paul Kagame and Pastor Rick Warren? Why is Rick Warren no longer wanted by God and General Paul Kagame in Rwanda? Many questions that may need answers in upcoming days.