On Monday, August 8, 2022 the three white men, convicted of murdering 25-year-old Ahmaud Arbery, an unarmed Black young man, while he was just on his routine jogging. were sentenced for for federal hate crime. The conviction follows the conviction on Tuesday February 2, 2022 (2/2/22). The verdict and sentencing confirmed what has been known all long: Ahmaud Arbery Was Murdered for "Jogging While Black" by white men known for pervasive racist behaviors.
The three white men, Gregory McMichael, Travis McMichael, and William "Roddie" Bryan, were found guilty on several different counts during the trials.
Gregory McMichael, 66, his son Travis McMichael, and their neighbour, William Bryan, have already been serving life sentences over the murder. On Monday, Gregory McMichael and his son Travis McMichael were sentenced to life in prison. William Bryan got a 35-year jail term. With the new federal sentences, the three convicted criminals will serve their additional sentences concurrently with their state prison sentences.
Ahmaud Arbery, then 25, was murdered in Brunswick, GA, on Feb. 23, 2020. The verdict on federal crimes was delivered on the eve of the second anniversary of Arbery's death(Brunswick - Georgia - USA: Ahmaud Arbery Killers Convicted of Federal Hate Crimes).
During the sentencing on Monday August 8, 2022, U.S. District Judge Lisa Godbey Wood said: "A young man is dead. Ahmaud Arbery will be forever 25. And what happened, a jury found, happened because he's Black".
---
Advertisement
Get the following books on Amazon: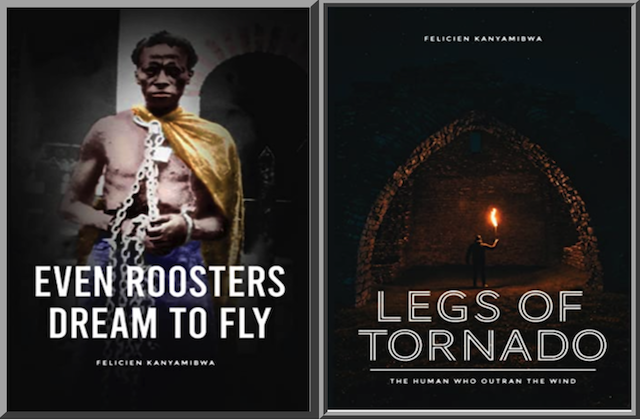 Even Roosters Dream to Fly: The Epic of a German White Catholic Priest and Manzi, a Freedom Fighter and a Mythological King of Rwanda.
Legs of Tornado: The Human Who Outran the Wind, an African tale about a human from a humble upbringing who outran the wind, defeated evil spirits, overcame his fate, became a respected clan chief, and triumphed ever after.
Even Roosters Dream to Fly along with Legs of Tornado are also available on Amazon worldwide and soon to several other platforms:
For more on the book, the author, the inspiration of the stories, Visit the author website here
---
Reacting to the verdict, Ahmaud Arbery's, Marcus Arbery Sr., said that Travis McMichael "killed [his son Ahamaud Arbery] because he was a Black man and you hate Black people," and hence he deserves "no mercy."
Ahmaud Arbery's mother Wanda Cooper-Jones told the media that "Travis chose not to even say that he was sorry" for the murder.
Gregory McMichael apologized to his wife and his son, but also to Ahmaud Arbery's family, saying: "Finally, I pray that God's peace will come to the Arbery family and this community."
Speaking to reporters , Wanda Cooper-Jones said, while accepting Gregory McMichael's apology, that "Being the person that I am, I think now he realizes he made some horrible decisions back in February (2020)... Unfortunately, his apology doesn't bring back my son, but I do accept the apology."
The case for hate crime charges was supported by hard evidences, including actions and statements from the killers. During the trial the prosecutors showed a large number of text messages and social media posts in which Travis McMichael and Bryan used racist slurs and made derogatory comments about Black people.
The case has give hope for other Black cases now in courts around the country (see Celebrate 2022 Black History Month: Voting Rights, Critical Race Theory and Remembering George Floyd, Ahmaud Arbery, Breonna Taylor, and Rayshard Brooks).
© 2022 AfroAmerica Network
---
Advertisement
AroniSmartIntelligence™, the leading tool for Advanced Analytics, Machine Learning & Data Science
Statisticians, Data Scientists, Business and Financial Analysts, Savvy Investors, Engineers, Researchers, Students, Teachers, Economists, Political Analysts, and most of the practitioners use Advanced Analytics to answer questions, to support informed decision making or to learn.
AroniSmartIntelligence™ is a leading Advanced Analytics, Machine Learning and Data Science tool, with optimized cutting edge Statistics models, Econometrics, Big Data and Text Analytics.
AronismartIntelligence™ includes modules covering Machine Learning and Big Data mining, Unstructured Text Analysis, Sentiment and Emotion Analytics, Bayesian Statistics and other advanced analytics.
---