She is the descendent of a confederate President and she has been instrumental in taking down the flag of hate and racism.
Yes, the South Carolina House voted on Thursday morning to approve a bill removing the Confederate flag from the Statehouse grounds. The bill almost failed to pass. The debate lasted more than 13 hours.

Then, in an emotional 4-minute plea, Rep. Jenny Horne, a Republican state representative and descendant of Confederate President
Jefferson Davis, moved her fellow representatives and the nation. The lawmakers did not have any other resistance, or maybe a choice, take down the monstrosity that had lasted for more than 150 years.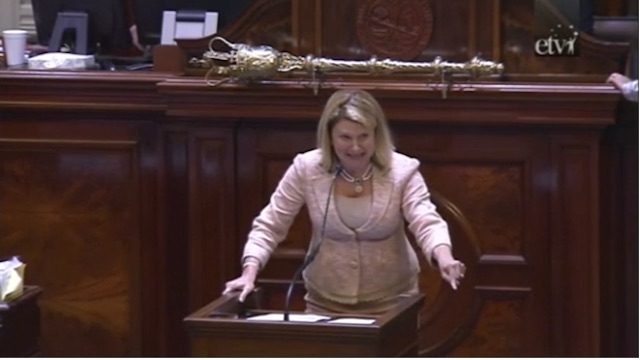 Through tears from the House floor Rep Jenny Horne challenged the house of state representatives:
"I cannot believe that we do not have the heart in this body to do something meaningful such as take a symbol of hate off these grounds on Friday."
"For the widow of Sen. Pinckney and his two young daughters, that would be adding insult to injury and I will not be a part of it!, "
Rep Horne added, referring to the shootings at Emanuel African Methodist Episcopal Church in Charleston, S.C., by the White Supremacist, Confederate flag worshipper gunman Dylann Roof. Nine Black , including South Carolina State Senator Clementa Pinckney were killed during a Bible study session.
Some lawmakers were arguing that the flag is cultural heritage symbol. But Rep Horne had a different argument.
"I'm sorry, I have heard enough about heritage, Remove this flag and do it today. Because this issue is not getting any better with age."

Rep. Horne's impassioned speech is seen as the pivotal moment that pushed the House to approve the Senate bill by
an overwhelming majority 94-20 to remove the flag within 24 hours of Republican Gov. Nikki Haley signing it into law.
Speaking to media afterwards, Rep Horne said: "At that point we were losing the vote. It was going south. If what I did changed the course of the debate, and I do believe it did, then it needed to be done. Because that flag needed to come down a long time ago."

Rep Horne accomplished what she set out to do. As President Obama said during a memorial at at Emmanuel African Methodist Episcopal Church , God has worked "in mysterious ways", by using a descendent of the confederate President Jefferson Davis, to bring a symbol of hate down.